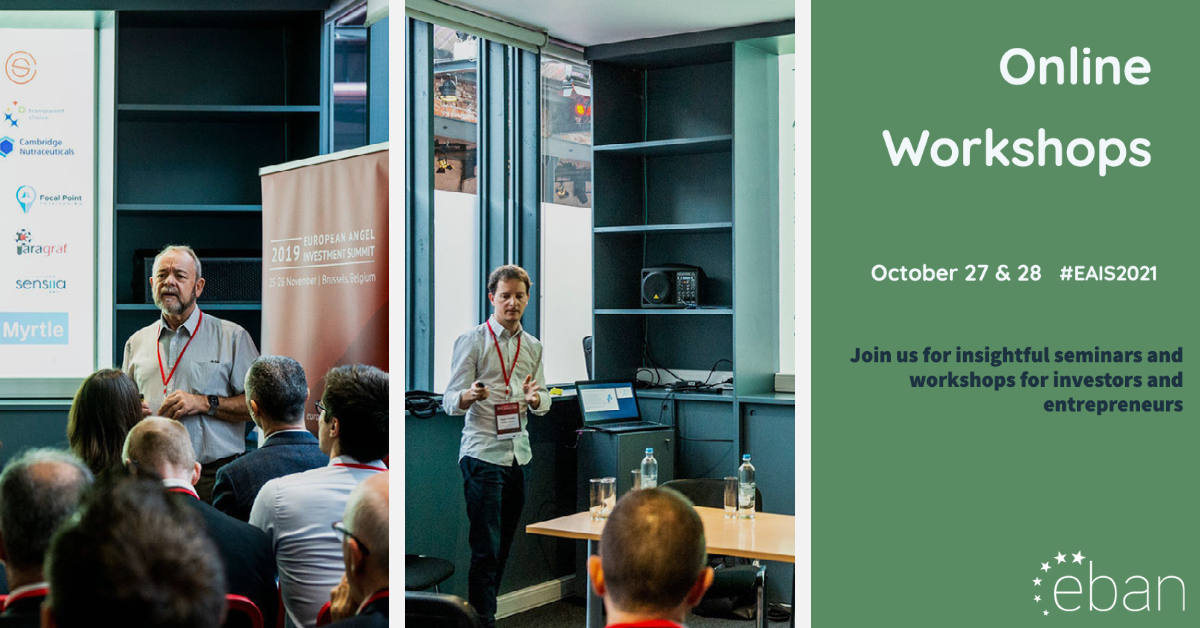 Join EBAN on the 27th and 28th of October for this year's EAIS full of insightful online workshops tailor made for investors and entrepreneurs like yourself!
27th October
How to Create a Scalable Channel Partner Strategy and Program: "Avoid Wasting Money and Time by Defining your Partner Strategy, Qualification and Engagement"


10:00-11:15 CEST


In this workshop, Petri Rinne explains how to qualify partners, create a truly lucrative business proposal, define your engagement processes and partner program.


Speaker:

Petri Rinne, CEO at Rinne & Partners
AI/ML, Blockchain and IoT – Buzzword Bing for Startups
10:00 – 11:00 CEST
The workshop will cover what kind of problems can be solved with Blockchain and IoT and what the shortcomings of these technologies are.


Speaker: 

Thiago de Faria, Senior Startup Solutions Architect with Amazon Web Services
Blockchain for People-Planet-Purpose (and Also Profit!)


11:15 – 13:00 CEST


Keynote – Blockchain challenges and opportunities in Education. By Alex Grech, Strategist, Consultant and Digital Media Academic at University of Malta.
Data Ownership for Community Good. By Elena Pasquali, Founder & CEO at Ecosteer.
Blockchain for Inclusive Local Economies. By Guido Boella, Professor at University of Turin, Computer Science Department.
Blockchain and Environmental Sustainability
Blockchain Startups Paving the Way for the Future. By Thiago de Faria, Senior Startup Solutions Architect at Amazon Web Services & 3 startups.
Final words on DLT4ALL. By Soulla Louca, Professor in the Department of Digital Innovation and Director at the Institute for the Future, University of Nicosia.
New Trends in International B2B Sales." Omnichannel is Here to Stay, How to Build a Scalable Sales Plan and Team to Secure Results in the Changed World"


11:30 – 12:45 CEST


In this workshop, Petri Rinne explains how companies need to adjust their B2B sales strategies to accommodate the changed environment.


Speaker:

Petri Rinne, CEO at Rinne & Partners
DLTs in UNIs – Enabling Higher Education on Distributed Ledger Technologies


16:15 – 17:45 CEST




Speakers:

  Manuel Fernandez Grela, Lecturer and Researcher at the Group of Analysis and Modelling in Economics, University of Santiago de Compostela; Iraklis Paraskakis, Professor in the Department of Computer Science at CITY College, Greece; Elias Iosif, Senior researcher at the Blockchain Initiative – Institute For the Future, University of Nicosia; Fadi Barbara, Ph.D. student at Department of Computer Science, University of Turin.


Moderator

: Korina Papadopoulou, Product Development Manager at Gnomon Informatics SA.
28th October
Tools for Building Your MVP
10:00 – 11:00 CEST
This session is for startups that want to find out about the best ways to build a minimal viable product (

MVP

) on AWS. You'll get an overview of how startups build 

MVPs

using services including API Gateway, Amplify, Lambda, Managed Kubernetes on AWS, Lightsail, and Database.
Speaker: Nicolai van der Smagt, Senior Solutions Architect Startups at Amazon Web Services
 Taking the Leap of Faith – Doing your First Healthtech Deal


10:00 – 11:30 CEST.


Join us in a workshop that will review the lucrative healthcare sector and discover how to get involved as an angel investor. Also, you can get a hands on idea of three investment ready startups from medtech and healthtech subsectors.


Speakers:

Caroline Sai, Operations Manager, Angels Santé, EIT Health Investor Network Leader; Edna Lazar, Director of Exploration for Edwards Lifesciences; Maria Hala, Business Angel, EBAN Health Committee. Ian Sosso, Angel of the Year 2018, Founder and Managing Partner of Monte Carlo Capital; Emmanuelle Deponge, Venture Partner at GO CAPITAL.


Featuring pitches from the following case studies

:


Tobias Seidl, CEO of Nia Health;


Nigel Lewis, Managing Director at Veinsense;


Philippe Auvray Co-founder and CEO at Neurallys
Soft Landing From MENA Region to Europe
11:15 – 12:15 CEST
Why startups based in emerging markets should consider soft landing and how they can raise capital from international investors.
Speakers: Raffaele Buompane, Senior Advisor at EBN; Tarek A. El Kady, Executive Chairman of KD Group, Founder of Techne, Alex Angels & The Mediterranean Business Angels.