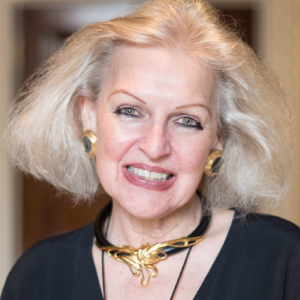 Candace Johnson
President Emeritus at EBAN
Candace Johnson - Chair of Advisory Board and Partner of Seraphim Space Fund, Founding Vice Chair and Member of the Board of NorthStar Earth and Space, and Non-Executive Director and Chair ESG/Nomination and Remuneration Committee of the Board of SES-imagotag, the world's leading IOT/Electronic Shelf Labelling group. Ms. Johnson is a member of the Executive Board of the ICC, International Chamber of Commerce and is Vice President of Institut EuropIA, the European Institute of Artificial Intelligence.
Serial Entrepreneur and Investor. Founder/Co-Founder of SES ASTRA and SES Global, the world's pre-eminent satellite company, Loral-Teleport Europe, Europe Online, VATM, Succès Europe, OWNSAT, GTWN, and GBRW;
Candace Johnson is a global infrastructure, network and innovation entrepreneur and investor.   She is Founder/Co-Founder of SES (Société Européenne des Satellites), Loral-Teleport Europe, Europe Online, Oceania Women's Network Satellite (OWNSAT), a founding investor in the Kacific Satellite System. Ms. Johnson is also Founding President of the VATM, the Association of Private Telecom Operators in Germany and Founding President of the Global Telecom Women's Network (GTWN). In 2012 she and a group of engaged women created the Global Board Ready Women initiative, (GBRW). She is President Emeritus of EBAN after having completed a four year presidency of EBAN, (European Business Angels Network), during which she was honoured to help co found ABAN (African Business Angels Network) and Rising Tide Europe, amongst other initiatives.
She has been decorated by the Luxembourg Government with the Commander of the Order of Merit and the Officer of the Oak Leaf Crown as well as being decorated by the German Government with the Officer of the Federal Order of Merit.  Ms. Johnson has received numerous Lifetime Achievement Awards from such prestigious organisations as the World Communication Awards,  Women in Aerospace and The International Alliance of Women.
Ms. Johnson has an honorary doctorate from the Hong Kong Polytechnic University, Masters with honours from the Sorbonne and Stanford and an undergraduate degree from Vassar College and her high-school degree from Punahou, Honolulu Hawaii