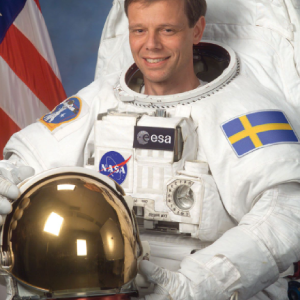 Christer Fuglesang
Swedish physicist and astronaut
Christer Fuglesang is a Swedish physicist and astronaut, the first Swedish citizen in space.
Fuglesang earned a master's degree in engineering physics from the Royal Institute of Technology (KTH) in Stockholm in 1981 and received a doctorate in experimental particle physics from the University of Stockholm in 1987. In May 1992 he was selected for the European Space Agency's (ESA's) astronaut corps and began training at the European Astronaut Centre in Cologne, Ger., and he later trained at the Yury Gagarin Cosmonaut Training Centre in Star City, Russia. After three months of specialized training on the operations of the Soyuz spacecraft, Fuglesang was selected by the U.S. National Aeronautics and Space Administration (NASA) for mission specialist training at the Johnson Space Center in Houston in August 1996.
Eight years after qualifying as a mission specialist, Fuglesang flew on his first space mission, STS-116, aboard the space shuttle Discovery on December 9, 2006. The mission (named "Celsius" by ESA in honour of Anders Celsius, the 18th-century Swedish astronomer) took the astronauts to the International Space Station (ISS) for an assembly and crew-rotation assignment. During the 13-day mission, Fuglesang conducted two scheduled space walks in order to install new hardware for the ISS and to rewire its electrical power system. He later took part in an unscheduled third space walk to fix the faulty retraction system of a solar panel, spending more than 18 hours combined on space walks. Discovery returned to Earth on December 22.
In 2006 Fuglesang was appointed an affiliated professor at KTH, where he had taught mathematics since 1980. His second spaceflight, STS-128, aboard the space shuttle Discovery, was launched to the ISS on Aug. 29, 2009. The mission lasted nearly 14 days, and Fuglesang performed two space walks. During one of these Fuglesang and mission specialist John Olivas replaced an ammonia tank weighing about 800 kg (1,800 pounds), the largest object ever handled in a space walk. STS-128 landed on Earth on September 11.